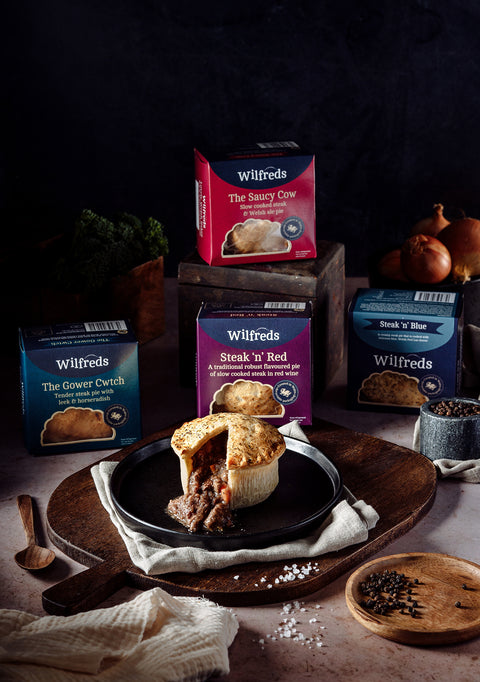 Steak Selection
4 of our delicious steak-based pies
Get ready for a steak-filled feast with the 'Steak Selection' mixed box from Wilfreds. This box is loaded with 4 of our delicious steak-based pies, each one carefully crafted with the finest ingredients to bring you the ultimate pie experience.
Enjoy the richness of our 'Gower Cwtch', with its slow-cooked steak with delicious Horseradish Sauce, or the bold flavours of 'Steak n Red' with its juicy steak cooked in a red wine sauce. Treat your taste buds to the indulgent 'Saucy Cow', with its steak cooked in Welsh Ale gravy, or the classic 'Steak n Blue' with its steak and blue cheese filling. Whether you're a steak lover or just looking for a hearty meal, this selection of pies has something for everyone. So why wait? Get your 'Steak Selection' mixed box today!

More delivery info
We send all orders via a DHL Tracked Next Working Day service, with a 1 hour-time slot supplied by DHL on the day. On orders up to £35, delivery is £5.95. For all orders £35 and over delivery is FREE.
If an order is placed before 1pm Monday - Friday, we dispatch it the same day. If an order is placed after 1pm, it will be sent the next day. Any orders placed after 1pm on Thursday are dispatched the following Monday for Tuesday delivery.
You are able to select a designated delivery date on all product pages, with options of Tuesday - Friday. Based on the date selected, the order will be dispatched the day before and you will receive a confirmation email.
FREE delivery over £35 | £5.95 under £35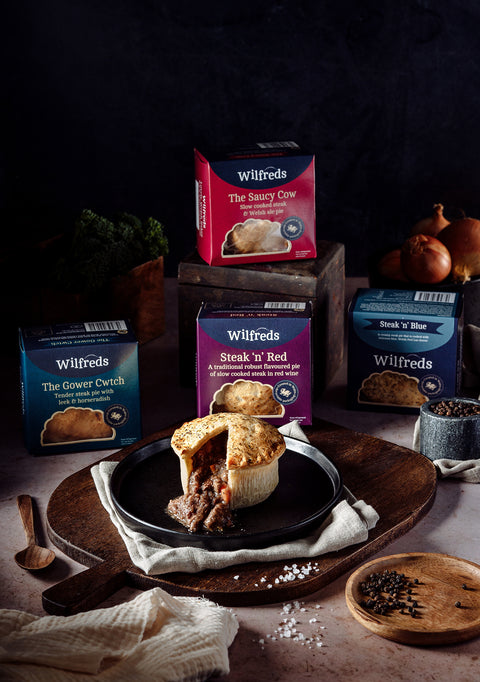 Don't forget about dessert:
Prime Welsh Ingredients
At the heart of our business lies our unwavering devotion to our Welsh heritage. We strive to maintain our distinct Welsh identity in all that we do.
It's no secret that we are passionate about collaborating with other local businesses. 
Some of our trusted partners include: - Shirgar Welsh butter, Colliers Welsh Cheese, Gower ales from the Gower Brewery and cheese from Caws Cenarth.
With outstanding products located throughout our beautiful country, these local Welsh businesses deliver unyielding quality that we are proud to endorse through our partnerships.
Pie Makers Since 1936
The origins of our bakery date back to 1936 when Wilfred Charles Lewis, a local of Swansea & Gower, decided to start making pies for the community.
Wilfred Charles started his small bakery in a single room in Fleet Street, Sandfields. He made his pies in solid metal tins and cooled them on the pavement outside. Wilfred perfected his craft, and soon enough he gained a reputation for his delectable pies.
Today and since 2013 it's the third generation of the Lewis family, Wilfred James Lewis, that continues to guide the business.